Trial Information
February 13, 2009 - February 15, 200
Registration Process
Entries will be open through Friday, February 6, 2009.!
Entry Form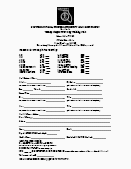 Click the form icon to the left to open the 2-page PDF file. Print and fill out the Entry Form manually.
Download the 2-page Entry Form as an Adobe Acrobat 5.0 PDF file (46 kB) for printing. You can pay with a check. Adobe Acrobat Reader 5.0 or higher is required. Download the latest free Adobe Reader software.
IMPORTANT: Please note that it is not enough to just mail your Entry Form. You are NOT entered in this event until we receive your complete package with payment, printed and signed entry form and copies of all applicable documents on or before the deadline.
Please contact us if you wish to receive the entry form by e-mail, fax or mail.
a) You must mail copies of the dog's registration, pedigree and other applicable documents together with your payment and your signed entry form on or before the above date.
b) All payments must be in US Dollars.
c) The original documents must be presented to the show secretary at check in.
INCOMPLETE ENTRIES, ENTRIES THAT ARE NOT SIGNED, AND ENTRIES WITHOUT PROPER DOCUMENTATION AND/OR PAYMENT WILL NOT BE ACCEPTED.
Mail completed entries, payments, and copies of the required documents to Ann Beattie (trial secretary). Entries that are not received in our office on or before the event deadline date will not be accepted.
Ann Beattie
31611 Croos Creek Ln.
Wesley Chapel, FL 33543
Tel.: 813-780-2404
E-Mail: WCHAIR4me@msn.com


We will not accept any entries received at our office after Friday, February 6, 2009.
For assistance in completing the entry form contact us by e-mail. Please provide your contact information (telephone, fax and e-mail).
Please contact us to receive the entry form as an e-mail attachment, by fax or by mail!
As requested by the German Shepherd Dog Club of America-Working Dog Association, Inc. you will need to read, understand and agree to the Release Statement and Waiver of Liability presented on the entry form PDF file.
• No entry fee refunds!


Last updated on 12/19/2008 20:46:00